I'm no chef, I leave that to Dada's more capable hands, but I do enjoying baking -- it might have something to do with my sweet tooth. Now that Christmas is over (yes, I finally took down the tree) and the goodies are all gone, I find myself craving a little sugar. One can never have too much sugar, I say. So, I spent some time in the kitchen today and here are the results (aside from a mess and slightly neglected kids).
After making Dada's favourite multigrain bread a couple of weeks ago (it's long gone, by the way!), today I made
my
favourite bread. I love raisin bread, but was unwilling to pay what seemed like crazy prices for store bought, so I decided to track down a recipe. After a couple of experiments with what was really a sweet bread (good, but not what I was looking for), I came upon
this recipe
. I just love the cinnamon swirl and it makes delicious french toast too.
This applesauce is so fresh that I am listening to the lids pop as I write --oh, there is #6. Living in the Annapolis Valley, apples are everywhere and a staple in our diet. The boys all like applesauce, although Isaac was disappointed that this batch is not "yellow" -- his favourite. Apparently his taste buds can taste the difference in colour!?
The favourite job when making applesauce is ... I'm not sure what you would call this ... hmmm. We have borrowed this applesauce maker from my dad on a semi-permanent basis. It cuts out the peeling and coring step -- yipee!. Just put cut up apples in the pot, skins, seeds and all, cook them up then "strain" out the juice and sauce after. I've never seen another contraption like it, but it works great.
... what mine looked like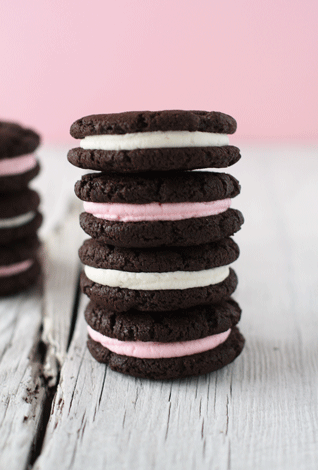 what they were supposed to look like ...
Well, not quite like the picture, but I guess that means that I'll have to keep trying -- what? more cookies, oh alright!
Here
is the recipe that I used -- looks like a yummy site. They were pretty easy to make and mixing them in the food processor meant that I could make them even with a little girl on my hip -- bonus! Do you think that if I straightened out my pile, it would look more like the first picture? Oh well, next time, right?